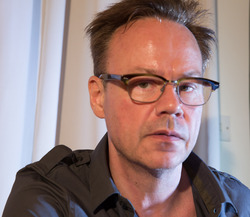 Don Ritter is an artist and writer who has been active in the field of media art since 1988. His interdisciplinary artworks and writings integrate fine art and digital media with aesthetics and ethics.
Ritter's immersive video-sound installations enable audiences to direct their experiences through body motion or voice, and his live performances and media façades present ultra high-definition video projections controlled by live music, sound, or body gesture. Ritter's work has been exhibited throughout North America, Europe and Asia, including SITE Santa Fe (USA), Winter Olympics 2010 Cultural Olympiad (Vancouver), Metrònom (Barcelona), Sonambiente Sound Festival (Berlin), Verona Jazz Festival (Italy), Exit Festival (Paris), Ars Electronica Festival (Linz), and New Music America (New York City). He lives in Montreal, Canada.
Entrevista realizada por Ricardo Dal Farra en Febrero de 2020.
Idioma original: Inglés
Fecha de Publicación: 31/03/2020
---
Links de referencia:
http://aesthetic-machinery.com/
http://aesthetic-machinery.com/compilation.html